Our History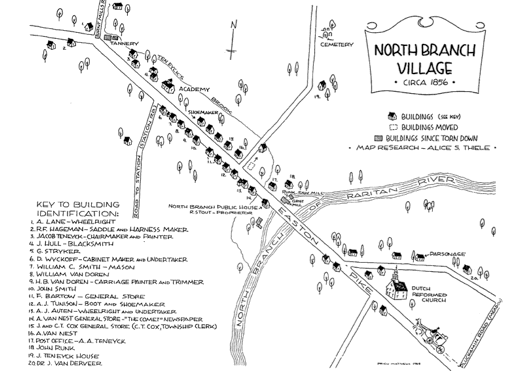 North Branch Village And Its Church, At The Millenium
This narrative builds upon two admirable works. The Semi-Centennial Address of Rev. P. M. Doolittle, DD, 1906 is an essential primary source. Dr. Doolittle was an eyewitness to many of the events chronicled here, and the principle recorder of much early Church and Village history. North Branch Village and its Church, by Alice S. Thiele published by the North Branch Reformed Church in 1964 with it's compilation of the first congregation of the North Branch Church and it's reconstructed map of the central Village in 1856 contains outstanding examples of the researchers craft. Considerable material has also been researched from other primary sources and added to give both scope and finer definition to this regional history.
Over the past four decades, several people have focused their attention on the "nuts and bolts" history of North Branch Village and its Church since the work of Alice Thiele, undoubtedly influenced by it. Both historians and residents have inquired into how things worked in times past, how people lived, how they earned their living and how they interrelated in matters both great and small. It is both a fascinating and a humbling study, for it brings us closer to people long gone and closer to each other through our common experience of simply . . . living.
Download and enjoy this peak into our history: North Branch Village And Its Church, At The Millenium .
Enjoy the next chapter in the history book: History of the North Branch Reformed Church Updated - 1999 to 2020 .