"I enjoy living here. It's given me a complete feeling of comfort. It's nice to share a home with others because you are never alone."
Kirkside
Kirkside at North Branch, sponsored by North Branch Reformed Church, is a licensed boarding home located in a park like setting on property adjacent to the church. It is a shared home for five adults who, for one reason or another, desire not to live alone, but instead seek the companionship and reduced cost of living in a family-style setting. Residents must be 62 or older, ambulatory without the use of assistive devices, alert enough to live without supervision, and willing to try group living.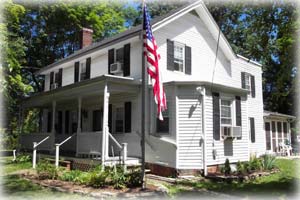 Kirkside fosters a self-help, self-reliant atmosphere that encourages sharing, caring, and independence. It emphasizes cooperation and continued personal involvement, which in turn allows the individual to remain in the community. Kirkside is non-sectarian, and members of all faiths are welcome. For further information, please call (908)725-2313.